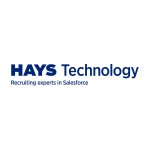 Hays Technology
Hays Technology
We know what makes the ecosystem work: our whole team are well on their way to becoming Trailhead Rangers and we're a trusted recruitment partner to Salesforce.

Not only does this give us access to roles you won't find anywhere else, but it also means we're the first to know about any new Salesforce products and , most importantly, the skills needed to power them.

We'll help nurture your talent, whether that's through supporting your development or providing new opportunities, and support you through every step of your career.
London

,

London

,

United Kingdom
London

,

London

,

United Kingdom
Company Information
If you're skilled in Salesforce, you'll be in demand from forward-looking employers who want to better connect with their customers. ​​​We can help you to leverage this demand for your
CRM
expertise by using our decades of experience in matching people to the right role, plus our world-class networks and exclusive relationships with thousands of employers to find you the position that's just right for you.
Whether you're looking to help a start-up become a unicorn or want to make waves in a multinational corporate enterprise, we can get you there.
What do you really want from a new Salesforce role? Understanding your passions and ambitions motivates us and we'll combine this with our in-depth knowledge of Salesforce.

Company History
Hays' Specialist Recruitment business was founded as the Career Care Group in 1968 by former CEO Denis Waxman. This business was acquired by Hays plc in 1986, the Specialist Recruitment business forming part of the diversified larger Hays group.

In March 2003, Hays announced that, following a strategic review, it intended to reposition itself as a pure-play specialist recruitment business and that the company would dispose of all non-core business, including its Commercial and Logistics operations.

In November 2004 Hays demerged its mail business, DX Services plc, which represented the final significant step in the transformation of Hays into a pure-play specialist recruitment business and Hays has now been trading as a specialist recruitment group since this period.

In November 2007 Denis Waxman retired after nearly 40 years with the specialist recruitment business of Hays. Denis was succeeded by Alistair Cox who became Chief Executive of Hays plc in November 2007.
No job openings
---