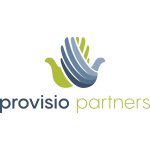 Provisio-Partners
Provisio-Partners
The Provisio Partners team has years of experience supporting nonprofits and public sector organizations. In fact, human services organizations are the only clients we serve and build long-lasting relationships with, and many of our team members bring long careers in human services organizations to their work at Provisio Partners.

We empower change-makers with the right-fit technology and Salesforce solutions, so human services organizations can connect their missions with the people and communities they serve.

At Provisio, we exercise continued dedication to equality and inclusivity as we engage with human services organizations. We want to understand and help them better serve their diverse communities.
Chicago

,

Illinois

,

United States
Chicago

,

Illinois

,

United States
Company Information
Provisio is the largest dedicated Salesforce consultancy with a single focus in Human Services.
Our specialized insight and solutions ensure smooth implementation and efficient operations to support your organization's challenges, needs, and opportunities.

Company History
On November 1, 2017, Provisio Partners was born, a firm with a mission to impact human services organizations' technical and data advancements. Located in Chicago, we deliver services to nonprofit and public sector organizations across the nation.