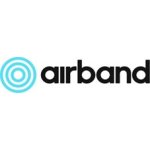 Why work for Airband?
We wouldn't be able to deliver on our mission to bring super-fast broadband to some of the hardest-to-reach areas if it were not for our people. We believe in unlocking everyone's potential and we are passionate about retaining our top talent and love to promote within, giving you the opportunity to progress or experience other areas of the business if that is what you want. Some of our benefits include:

25 days of paid leave a year rising to 30 plus bank holidays with service.
5% Airband pension plus a minimum 3% employee contribution
Customer referral bonus - a thank you for every customer you send our way.
We offer hybrid working – a mix of working from home and in the office.
Free Broadband - If you are in our coverage, you can benefit from free broadband with us!
20% off your monthly line rental on EE's phone, tablet, SIM only or mobile broadband plans.
Car financing scheme, Cycle to work, Tech scheme, Healthcare and medical insurance, Dental care, and Health cash fund (dependent on the length of service)
Airshare (employee discount platform) - discounts on everyday shopping, weekly groceries, holidays, the list is endless - save up to £1,000 a year!
Refer a friend reward scheme – a selection of great rewards to choose from!
Company socials! We really do like to get to know everyone

Ready to apply?
We want you to get the most out of your recruitment experience at Airband – it works both ways - are you a match for Airband, and are we a match for you? If you are ready to apply, click the button below to attach your CV and fill out our application form. All applications are reviewed and screened by our Talent team. If we think you could be the next Airband colleague, an intro call will be set up to learn more about you. We will provide more insight about the role and share life at Airband and, our values and discuss your experience to date.
Droitwich

,

United Kingdom
Droitwich

,

United Kingdom
Company Information
Our customers enjoy reliable, ultrafast broadband because we bring together the right minds in industry. Meet the team of high-achieving-always-working-lateral-thinking-brainiacs who created your network.


Connecting people and communities
We are proud to work with the Department for Digital, Culture, Media & Sport, BDUK, local authorities and communities to build high availability infrastructure that residents, businesses and other ISPs can access to help overcome the UK's digital divide.
Trusted by governments, industry partners and communities to bring the fastest, most reliable broadband service to rural communities and industrial parks.
Company History
Our mission is simple – everyone deserves better broadband. In 2009 we saw those with rural roots were dogged by slow speeds and inconsistent connections. Apparently, nothing could be done. But we could fix the problem! Our ambition was to build the largest non-urban broadband network for hard-to-reach communities across the UK. And over a decade later, we are proud to be a go-to specialist for reliable, rural broadband.